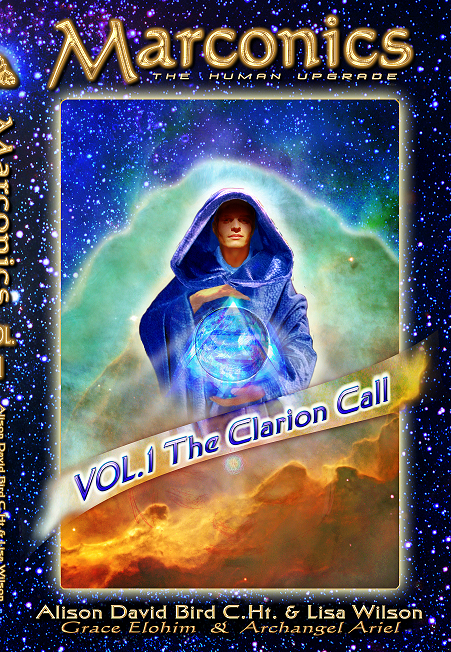 Testimonial from Julia Molino -

Publishers Weekly, NY
I just finished the book this morning and really liked it. It reads like a novel --engrossing action and dialog but also imparts information that I found intriguing and that resonated with me because I am familiar with metaphysics, having studied Carl Jung and others.
...you lead the reader ...with this book, into slowly understanding, chapter by chapter, that there may be no way to avoid it, and if this is the case, then accepting the human upgrade is the way to be saved and help others be saved if and when the time comes.
While I don't think it will be as big as Star Wars, it does remind me of another bestseller in the early '90s called the Celestine Prophecies.
Marconics, Vol. 1:
The Clarion Call
By Alison David Bird & Lisa Wilson
The true account of the spiritual journey of two women with extraordinary soul contracts who discover that they are the incarnate leaders of an Atlantean rescue mission 56 million years in the making. This is the story of humanity's origins, the illusionary constructs devised for our experiences on earth, and how we can break free and awaken to return to our true multidimensional nature.
Purchase a signed paperback copy
$17.99*
*$3.50 shipping in the continental U.S.
"I love, love, love this book. Every page is infused with Marconics energy! It feels like a continual recalibration"

- PAT SWEENY, MA
"I love this book and I can recommend everyone interested in higher dimensions and Ascension to read it!"

- LINDA VERDADE, Norway.
"This is such a great book, I am so glad to be apart of this work, and so happy I followed my heart to the September class of 2013, and also got to be at the first expo!"

- SYBIL WALKER, MA
"I bought my book on Amazon and put it on my Kindle, it is with me at all times. Marconics: The Clarion Call is a must read for all those interested in learning more about the Ascension Path, especially light workers."

- NUBIA LONSDALE.
To answer 'The Clarion Call'
is to be of service to our Galactic Founders -
as the human collective speeds simultaneously,
either toward Ascension for those who can sustain it,
or destruction for those who choose it.
Praise for 'Marconics Vol 1., The Clarion Call'
5.0 out of 5 stars
Your higher self will be singing and dancing once you step onto this path!
By Bill on June 14, 2017

Do not just read this book and toss it aside.
Use it as a springboard to the most phenomenal spiritual experience you could ever wish for.

Go to their website, watch the youtube videos, then get off your spiritual behind and go for the real experience.

Find a practitioner first if you like to take baby steps, and have a one hour session.

Then, when you realize how truly awesome this energy work is, get to a 2 day class so you can really open up and learn to pass on this energy to others.

This is truly life changing. I have had a Marconics Recalibration, but am not affiliated with them at all. I am so very grateful to have been led to the class, and to this wonderful experience. Your higher self will be singing and dancing once you step onto this path!
5.0 out of 5 stars
Five Stars
By Carol on September 17, 2016

Energy workers, this it the latest update. Put your reiki aside, it's last century, and read about this.

5.0 out of 5 stars

Five Stars
By Deborah G. on September 25, 2016
Really good book, has a lot of new information about planet 5th dimensional ascension.
5.0 out of 5 stars
Answers so many questions
ByJMW on March 17, 2016

Answers so many questions, even the ones I didn't realize I had. Very well written, the truth rings through. Couldn't put it down.
Will re-read over and over. Looking forward to Book 2.
5.0 out of 5 stars

Mind blowing, genuine and funny!
By Lisa on April 20, 2016

Eye opening!
A very complex subject that is broken down to its simplest form for the readers.
Such a life changing book that I have been purchasing copies (both digital and paperback) for friends and family to enjoy.
Urgent, Pressing and Imperative!
I'll never look at things the same way again and that's okay.
Different than the books I've read that only have bits and pieces of this subject matter.
5.0 out of 5 stars
Great Book!!

By Dawne on May 9, 2017

If you've seen their website and felt the "calling" for Marconics, then this is a MUST READ for YOU!! I've already taken level 1, 2 and 3 classes and it's been an amazing and unique experience. As far as I'm aware, there is NO other healing modality that can offer what Marconics does!
Marconics, Vol . 2:
The Angels of Atlantis
By Alison David Bird & Lisa Wilson

Told from the perspective of galactic observers charting the orchestrated evolution of man, this cleverly crafted fictional narrative draws from channeled information and presents compelling evidence revealing the higher truth of humanity's origins and Earth's destiny.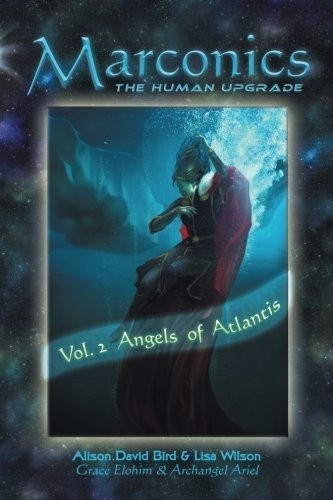 Purchase a signed paperback copy
$17.99*
*$3.50 shipping in the continental U.S.